Benefits and costs of drone use for disaster response¶
Drones, like any new technology, invite new benefits and costs. We present the following summary of costs and benefits for drone use by Red Cross/Red Crescent members, derived from telephone interviews, email correspondence, and desk review of relevant documents.
The benefits¶
Collecting low-cost, high quality geospatial data¶
Drones generally offer a low-cost and easy to use means of collecting high-quality geospatial data after disaster. In many countries and scenarios, drones represent the only realistic or affordable means of collecting aerial imagery: manned aircraft and usable satellite images are not options. Drones permit disaster responders to quickly create usable, actionable maps, and to rapidly impact a disaster's effects on the community.
Pre-disaster planning¶
During the last 3 or 4 years, there was trouble in Gambia, and a lot of people coming to Senegal. So we can use the drone to see or find a good area for their reception, so we can identify a good place to put a camp. Because we can also know the level of the ground. If the area is not accessible, we can use a drone to find a good way to go there.

- Mamadou Gueye, Senegalese Red Cross Society
Drone-collected data makes it easier and cheaper for organizations to plan future construction and infrastructure projects. With drone data, organizations can identify better places for IDP camps, assess flood risk in a given area, predict and plan for climate change impacts, and more. In this way, drones have just as much utility for "pre-disaster" operations as they do for "post-disaster" operations.
Situational awareness during disaster¶
We have a lot of old bombs from WWII lying around. There was an explosion in this field… The police thought it might lead to a sinkhole, or an old mining path. We went up with the drone and looked at what was there, to minimize the risk for the police or fire department.

- Kai Brunner, German Red Cross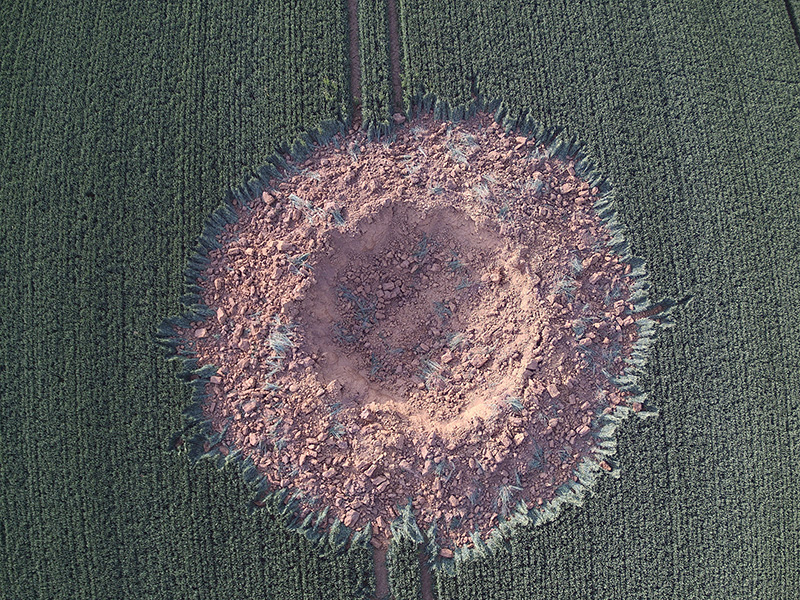 Drones are an "eye in the sky," a means of gaining a birds-eye view of a given scenario or situation. Humanitarians can use drones to gain a quick, overview idea of what they are responding to, and to make quicker decisions about which areas they should attempt to reach first, and how they might best get there. This type of situational awareness information does not require computationally demanding processing. Using this information simply requires a functioning drone that is capable of instantly outputting images to a connected mobile device, which most modern consumer drones are capable of doing.
After the [landslide] disaster, we wanted to know what the situation was visually, and that was impossible without drones. The ground team was moving, but it was very soggy, very wet, and continuously raining - they weren't able to reach the site. The drone imagery helped us do that kind of mapping, where we were looking at the before situation and the after situation. We were able to count how many houses were affected, how many bridges were washed away, what roads were cut off.

- Joel Kitutu, Uganda Red Cross Society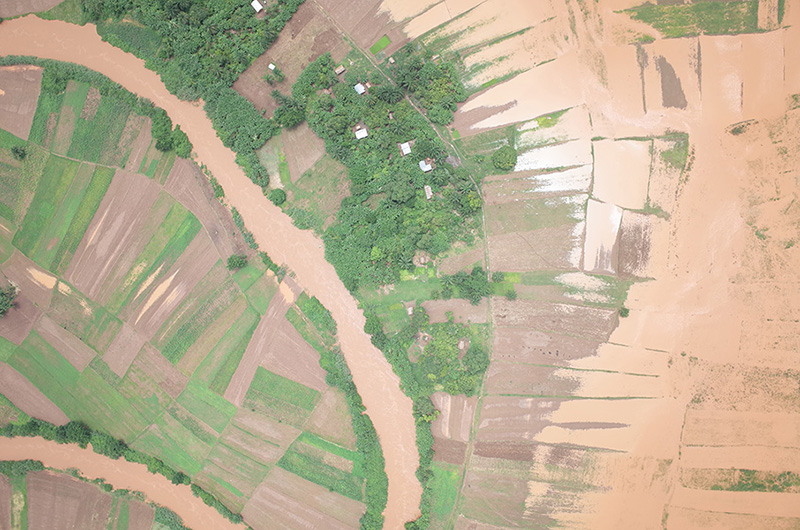 Interviewees for this report described using drones in this way in a number of occasions and contexts, such as searching for safe entry ways into disaster areas, gaining a sense of the overall scale of flooding events, and conducting an initial overview of areas with potential unexploded ordnance. These initial, overview images can also be used to quickly identify areas that should be mapped in more detail. Search and Rescue Operations
In combination, drones and dogs are very powerful. The dogs search in the forest and the drones search in the meadows, mostly where the dogs aren't searching - in places where it's dangerous for them, for example fields with wild pigs, quarries or along stream courses.

- Kai Brunner, German Red Cross
Search and rescue operations often rely upon aircraft to search for missing people over large geographic areas. Manned aircraft may not always be available and are expensive to operate. With this in mind, a number of search and rescue-focused Red Cross societies have begun to experiment with using drone technology to assist both land and water-based rescues. The German Red Cross is working to combine both drone-assisted searches and searches carried out with dogs: the drones search areas that are not heavily forested, while dogs are sent to areas that are too dense with foliage for the drones to "see" effectively. The New Zealand Red Cross intends to work with academic researchers to develop drone hardware and software for off-shore search and rescue operation, which could then be deployed throughout the Pacific region. A number of private companies are also beginning to develop specialized software for drone-assisted search and rescue operations.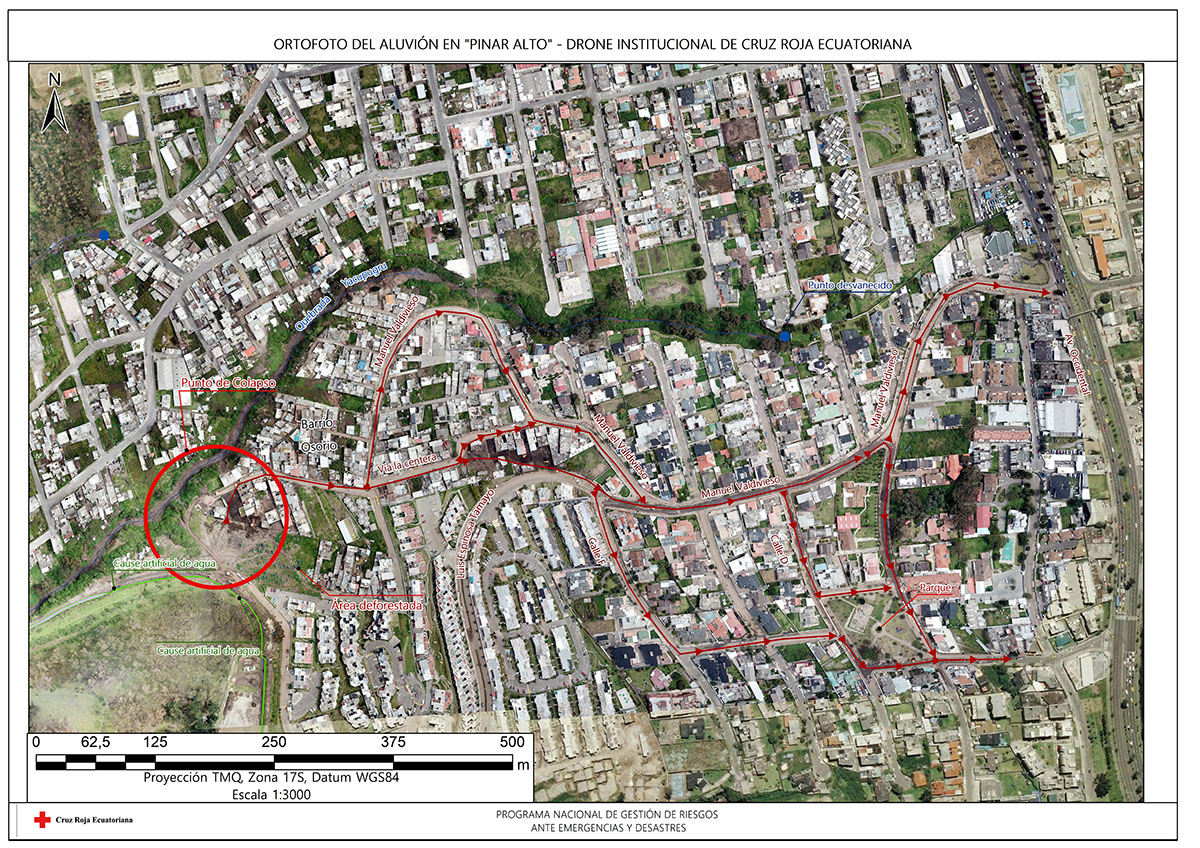 Striking, compelling imagery for PR and communications¶
We had that Faces of Humanity campaign centered around the Bangladesh Myanmar Crisis, and a lot of people came to us with feedback that they hadn't fully grasped the scale of the disaster until they saw the drone images of an endless sea of tents, stretching far beyond the horizon.

- Luc Alary, Canadian Red Cross Society
Drone imagery presents a compelling, aerial view of the world, and a number of Red Cross societies are incorporating drone photos and video into their PR and communication strategies. Before the rise of inexpensive consumer drones, capturing these striking "big picture" views of disaster areas and operations was often prohibitively expensive for humanitarians.
Today's drones are capable of collecting high-resolution photographs and video at a lower price point than is possible via manned aerial photography, making it easier for humanitarians to quickly collect and disseminate imagery to the public. Drone images are particularly valuable for giving the public a sense of the size and scale of a given disaster, such as aerial photographs of a vast flooded area, or videos depicting the enormous size of a camp for people displaced by disaster.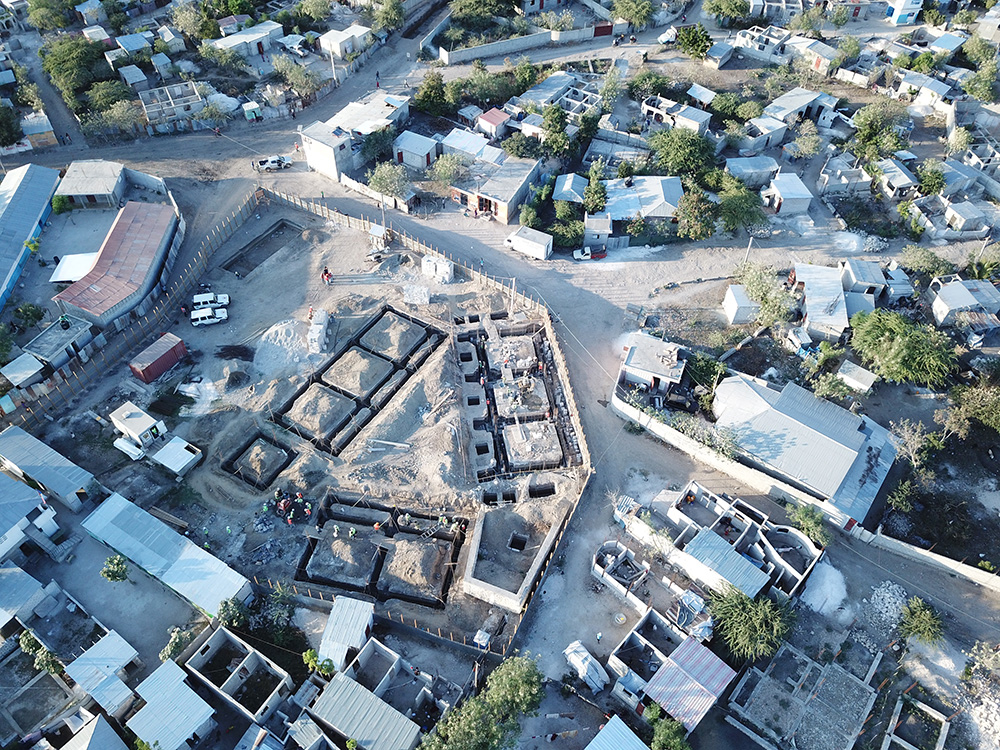 Positive community responses¶
Internationally, people are really intrigued. It's almost difficult to deploy the drone in Bangladesh due to massive interest and curiosity from people.

- Luc Alary, Canadian Red Cross Society
Drones are a controversial technology, and humanitarians often assume that the public will respond negatively to their presence. However, this was not the experience of the RCRC drone users that were interviewed for this report.
The vast majority of interviewees reported that local community members had positive responses to the presence of their drone: the overarching theme of these interactions was public curiosity, instead of public distrust. No interviewees reported an outright negative or hostile experience with community members regarding their use of drones.
While some reported that community members were curious and wanted to ask questions, they noted that these interactions all ended on a positive note, after the RCRC members explained what they were doing with the drone and why. Their experiences are an encouraging indicator that drones may be a less polarizing technology than they are often thought to be.
Perhaps the fact that the drones are flown by the RCRC is a relevant factor in the technology's positive reception. Recent research from the US 1 found that the public holds considerably more positive views of drones that are used for public safety than they hold of drones used for other purposes. 2 RCRC societies may want to ensure that their drones are clearly marked with RCRC insignia. They should also ensure that communities are notified of drones activities as widely as possible, and that communities are (when possible) given access to the data that drones collect.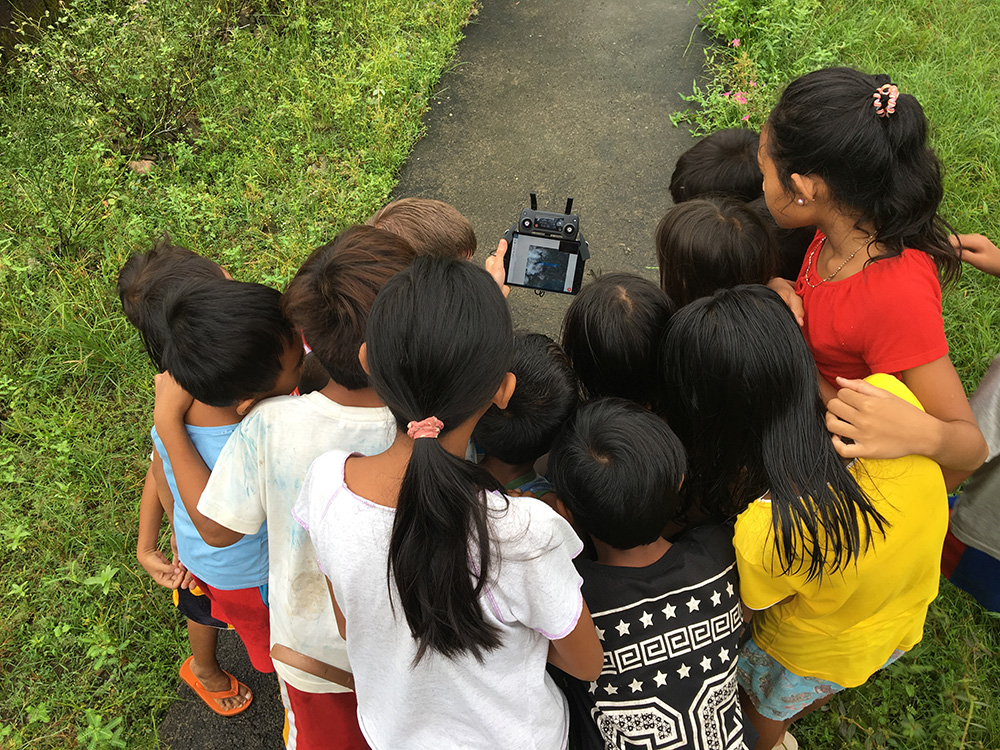 Community mapping work¶
When we get…requests from the village administration office, we mostly work with them in the community, so they have very detailed mapping for development proposals…. It can be useful for them to plan their community and village.

- Husni Mubarok, Indonesian Red Cross Society
Drones are becoming an increasingly common sight during community mapping projects, where disaster responders draw upon the first-hand knowledge and insight of community members to craft maps that better reflect reality on the ground. The high-quality, high-resolution images that drones capture give people who participate in community mapping exercises a clearer visual overview of where they live: they can this supplement this information with their own local knowledge and expertise.
We are testing risk mapping, community mapping - these methodologies where you go and talk with people. They make a hand-drawn map, and all of these go on the computer. And with the photos from the drone, you can mix these two sources of info: what the community sees, and what you see in the orthophoto. The final product will be a risk map.

- María Fernanda Ayala, Ecuadorian Red Cross
Drone mapping exercises also, ideally, leave communities with raw data that they can use for their own projects and purpose. Many interviewees described positive interactions and collaborations with community members around drone mapping projects.
In an interview, Husni Mubarok, IFRC Indonesia, IM Senior Officer described the typical workflow his team follows when they fly drones in the field. We provide it below as a representative example of how drone teams plan flights, capture data, and process that data for practical use.
First, we prepare the flight plan based on a request from the Disaster Management department at PMI (the Indonesian Red Cross) Once we get the location, then we do an initial remote survey of the area.

We create a flight path and plan, and prepare our technical kit. We meet with local authorities and get permission to fly first. We then go to the field and fly the drone.

Once the flight is done, the images are sorted, so we know that there is clean imagery to be processed into an orthomosiac (a map made from many drone photographs).

Once we get the mosaic imagery, we upload it to Open Aerial Map. Then, we contact OpenStreetMap Indonesia, so they can update their tasking manager with the latest TMS (Tile Map Service). Then once we update all those things, we conduct a small mapathon with the local volunteers [using the drone map], so that we have full digitization of the area. We map out roads, building footprints, waterways, and more.

Once that's done, we continue to create the final basemap: if it's required, we create an atlas. Then, we distribute the map to the Vulnerability and Capacity Assessment Team." Once it is done we will continue with the work of creating the basemap. If it is required… we will create an atlas. Then, we will distribute the map to the Vulnerability and Capacity Assessment (VCA) team.